Archive for April, 2011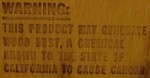 I bought a couple of pieces of plywood today. You know the stuff: Useful, made of wood, pretty boring, kinda flat, deadly. Wait, what? Yep. Says so right on it:
Warning: This product may generate wood dust, a chemical known to the State of California to cause cancer.