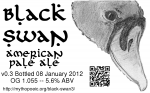 Another new swan is out. This new version achieves more subtlety and fewer off-flavors, better head, less sediment and improved clarity. (Clarity is over-rated.) Read on after the jump for details.
Diffs
This version uses much the same ingredients and process as Black Swan APA v0.2, with a few important changes:
"Closed" primary fermentation process a la Charlie Papazian (et alia), where foam is discarded through a blow-off tube. (The last batch was "open" only in the sense that the foam from primary fermentation was allowed to fall back into the brew. I still used a carboy with an airlock.)
Greater volume (to fill the carboy completely, and make up for the volume lost via discarded foam).
Added 1# of light malt extract (to keep the gravity up given the greater volume).
Used swanky new bottle caps with an (allegedly) oxygen-absorbing lining.
Used a shiny new self-starting siphon and fill hose to help avoid aeration (and possible off-flavors from old, nasty plastic tubing).
Used liquid yeast instead of dry.
Recipe
Ingredients
7 lbs. light malt extract
1 1/2 lb. pale malt
1/2 lb. cara-pils malt
1/2 lb. medium crystal malt
1 oz. Centennial hops (bittering)
1 oz. Cascades hops (flavoring and finishing)
1 pkg. Burton water salts
1 pkg. liquid Nottingham ale yeast
1 pkg. Bru-Vigor yeast food
6 gal. drinking water (3 x 2 galllon bottles)
Procedure
Take liquid yeast out of fridge some hours before and allow to reach ambient temperature (no greater than 80°F). When starting brewing process proper, pop inner bag to activate yeast.
Measure 1 gal. of water into a stock pot. Heat to 170°F.  Add Burton salts. Stir. Turn off heat.
Add mesh bag containing mixed grains to hot water. Agitate gently and ensure bag is completely submerged. Steep for 30 min., stirring occasionally. (Continue with next step; do not wait until steeping is complete.)
While grains are steeping, heat another gallon of water to 168ºF in a second stock pot.
At the end of the 30 min. steeping time, transfer wort to brew kettle. Place grain bag in colander over brew kettle. Sparge (rinse) grain bag using water from second stock pot, turning the bag to ensure complete coverage. Squeeze remaining liquid from grain bag using a large spoon.
Add 1.5 gal. of water to brew kettle, bringing total volume to 3.5 gal.
Cover brew kettle and bring to a boil.
Turn off heat. Add malt extract. (Rinse extract bucket with hot wort to easily get the last dregs of extract out.)
Cover brew kettle and resume heating until wort is boiling. Boil gently for 5 min.
Add Centennial hops. Stir. Boil for 45 min.
Add ½ oz. of Cascade hops. Stir. Boil for 10 min.
Add remaining ½ oz. of Cascade hops. Turn off heat. Stir.
Cool the wort by placing brew kettle in sink full of cold water. Change the water when it gets hot. Add ice cubes if available to speed cooling. Continue until wort temperature has fallen to 90ºF.
Siphon ½ gal. of wort into a sterile sealed container. Place container into refrigerator. (This gyle will be used later for kräusening.)
Siphon wort into primary fermentation vessel. Check that yeast container has inflated. Pitch yeast into fermentation vessel. Stir gently, using end of siphon hose.
Add water to fill 5 gal. glass carboy within 2" of top of neck. Stir. Measure gravity and temperature; record. Top up to within 1/2" of overflowing.
Fit stopper and blow-off hose onto fermentation vessel. Place other end of blow-off hose into a container of water. (A used 2 gallon plastic water bottle is perfect for this purpose. There will be a lot of blown-off foam! Do not use a container smaller than 1 gallon.)
Allow to ferment for 4 days.
Rack to secondary fermentation vessel. Fit stopper and airlock.
Allow to ferment until activity ceases.
Check final gravity. Expected value is around 1.012. Do not proceed if over 1.017.
Bring gyle (from step 14) to ambient temperature. Add to secondary fermentation vessel.
Bottle. Age one week. Open a bottle to check carbonation levels.
Age an additional two to five weeks. Consume.
Presentation
The labels for this version (show up at the very top of the post) feature more original art from SJH. The design follows the same lines as the previous labels, although using a new font. (Some tasters had trouble reading the faux-blackletter style on the title text of the original.) You can download the original GIMP layers file (343KB bzipped, created with version 2.6.11).
I like mine at ambient temperature (72°F-ish) in a simple conical pint glass. If you are accustomed to cold beer, I would suggest cellar temperature (55°F) as a compromise.