Spotted from the street in the vicinity of 1413 2nd Street, Santa Fe NM was this wonderful metal dragon. (Photo is copyright 2011 MDH and appears here with his permission.) Unfortunately, I don't have any further information about the dragon itself or who created it.
According to Google, there are various businesses at or near this address, including:
However, I didn't spot anything dragon-related on any of their respective websites.
Another photo from Steve Holland Photography is available via Flickr; unfortunately I cannot include it here due to licensing issues.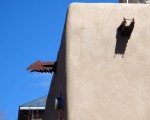 Also on the same building are some other interesting architectural bits:
The site can be seen from Google Street View also.
If you have any additional information about this site, please post it in the comments.