New Zealand artist Zarathus recently completed a commission for me: the wonderful one-of-a-kind dragon mask pictured at right.
Additional pictures and information after the jump. As always, click the image thumbnails to see a larger version.
The artist also was kind enough to send me some images of the work in progress. (The photographs below were taken by and belong to Zarathus, who was kind enough to let me share them here.)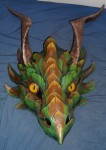 I'm incredibly pleased with how it turned out. Zarathus is a very talented artist, and she was a complete professional and an absolute pleasure to work with throughout the commission process.
You can see more of Zarathus' work here:
The scales are painted, tooled leather. The horns are resin casts of goat horns. The mask is designed to be worn; it is surprisingly light (and yes, you can see out, at least a little bit).
The "Spring Dragon" mask and work-in-progress images are Copyright  (c) 2013 by the artist, and appear here with her permission. They are not licensed under Creative Commons.